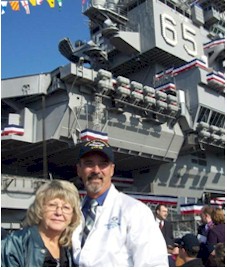 Hello shipmates, families and those interested in our great ship,
To start, I am James (Jim) Voorhies, your newly elected Chairman of the USS Enterprise (CVAN/CVN-65) Association. I am honored that the membership has put their faith in my abilities to lead our Association into a new frontier. I would like to express my appreciation for all the Chairmen who came before me, laying the foundation of our organization and preserving all those things associated with the USS Enterprise. I sincerely give my personal thanks and gratitude to Don and Mary Lee Thiry for their devotion and hard work.
We just completed our reunion in Branson, MO and I believe we had a very successful gathering. I am always encouraged when I see all the smiling faces. My wife, Shirley, reminds me that when we all (Sailors and Marines) get together, that we are all young men again, reliving our stories and laughing about our past exploits. It is not only the men that have fun, but the wives and other family members share their stories of what they did during deployments. We truly are all family, regardless of whether we served aboard ship or married into service.
My vision is simply to maintain a well-informed membership through open and frequent communication. I have an open line to speak with Captain Beltz, CO USS Enterprise. He has provided me good info and status briefings to pass along to our Vets. I am also looking to visit Newport News Shipbuilding in the near future. This visit is related to the work I do as a Safety Director. I will make time to visit our old home, take some photos and gather some stories.
Here are some of my goals for the coming year.
- Continued update of the website as information is available
- Notifying membership when new information is available
- Communicate information between officers of the Association
- Maintain status of reunion preparation progress
- Provide newsletter in a timely manner
I have taken over the newsletter and hope to have an issue mailed out before year's end. I am not a writer, nor am I creative enough to make the newsletter interesting. But I will give it my best effort. I would like to have someone step forward to assist with item of importance.
The website is in transition again. Larry Ragan is working to improve the site and make it easier to navigate. I am also looking for someone to volunteer as Assistant Webmaster to help Larry manage the website.
We are still making plans for the 2017 reunion in 2017. Please be patient while we continue the planning. We will inform the members about the gathering as we formalize the details.
Please stay healthy. We will see you all very soon.